14 'Dump Dinners' For Quick And Easy Mealtime
I think it's safe to say that many of us struggle with feeding our families healthy (yet delicious) meals during busy weeknights. When you're pressed for time, it's all too easy to say, "We might as well just head to a drive-thru." Thankfully, there is a way better alternative! "Dump dinners" are anything that can be thrown into a crock pot, Instant Pot, casserole dish, or pot on the stove. After that, just walk away until it's time to eat! Here are 14 dump dinner recipes that are quick, nutritious, and will make your weeknight dinner preparation way easier.
1. Chicken Tortilla Dump Dinner
Throw some chicken, veggies, tortillas, and spices into a casserole dish, and you'll have yourself an awesome Tex-Mex dinner.
2. Dump-And-Go Chicken & Dumplings
The best part about this classic dinner recipe? It only needs to cook for 20 minutes!
3. Lamb & Spinach One-Pot Pasta
This pasta recipe is so delicious, no one will know it's full of veggies and other healthy ingredients!
4. Instant Pot Salsa Shredded Chicken
Serve this salsa shredded chicken with rice, veggies, or in tacos. This recipe can be cooked in either an Instant Pot or pressure cooker.
5. Instant Pot Beef Gyros
Tender pieces of beef, soft onions, fresh tomatoes, and homemade tzatziki sauce? This recipe is a winner in my books!
6. Alfredo Shrimp Scampi Dump Dinner
Shrimp, pasta, garlic, spices, and parmesan cheese come together in this simple yet unique recipe.
7. 4-Ingredient Hawaiian Pork Dump Dinner
Four ingredients will give you this Hawaiian-inspired recipe that the whole family will love.
8. 30-Minute Instant Pot Orange Chicken Dump Dinner
This orange chicken recipe is healthy, full of flavor, and only takes 30 minutes to cook in an Instant Pot.
9. Creamy Tuscan Garlic Chicken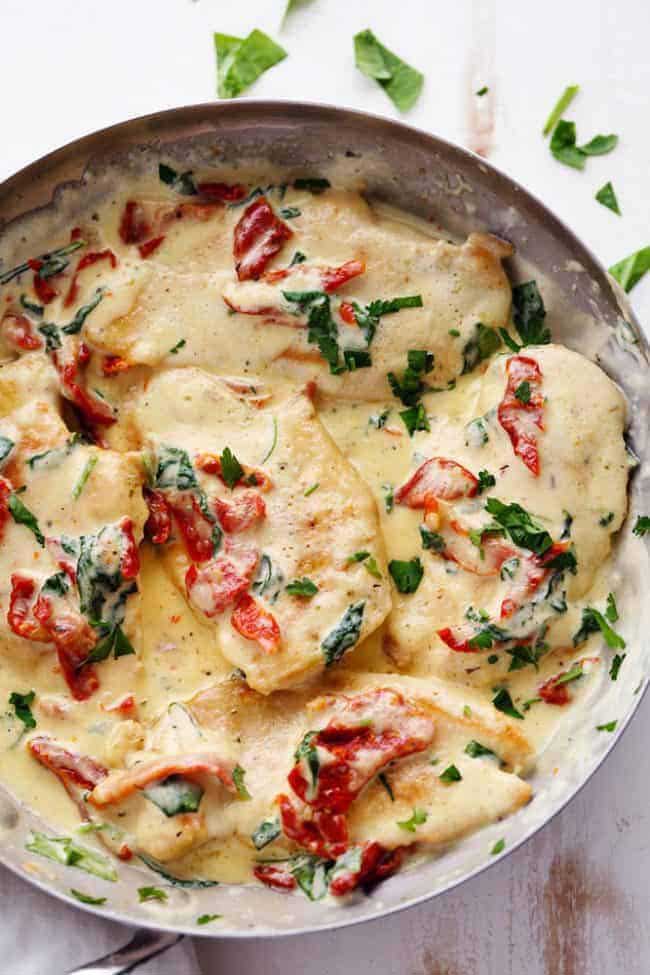 This decadent recipe is creamy, hearty, and even keto diet-friendly.
10. Chicken Teriyaki Dump Dinner
Just toss some chicken, veggies, and a teriyaki sauce in a casserole dish, and pop it in the oven for a yummy yet nutritious dinner.
11. Instant Pot Chili
This list just wouldn't be complete without a hearty and easy chili recipe.
12. Crockpot Ranch Chicken
To make this recipe, all you need to do is dump some green beans, potatoes, chicken, and bacon into your crock pot and walk away!
13. Country Ribs Dinner
This is a classic country recipe if I've ever heard of one! I can't wait to try this out.
14. Crock Pot Spaghetti Squash & Meatballs
Spaghetti squash is a great, healthy alternative to traditional pasta. Did you know you can slice a spaghetti squash in half and toss it straight into a crock pot (with meatballs, too)?!