Family Builds Tiny House Village Where All 4 Members Have Their Own Home
Tiny homes are popping up all over, but have you ever seen a village of tiny homes before? In 2015, Keli and Ryan Brinks decided to purchase 21 acres of land in London, Kentucky and plop six tiny structures onto the property. Now, Keli and Ryan live in one tiny home, their 18-year-old daughter Lennox lives in another, and their 16-year-old son Brodey lives in another.
Keli and Ryan purchased the land for $57,000, and the six tiny homes on the property cost just $20,000. "We chose London, Kentucky, because of the lack of restrictions for housing and because the land was much cheaper than in areas of Tennessee that were closer to the family but more expensive and with restrictions," explained Keli.
First, let's take a tour of Keli and Ryan's quaint tiny home!
At 280 square feet, theirs is the largest tiny home on the property. It features a living area, kitchen, bathroom, and loft bedroom.
The tiny home next door features two side-by-side bathrooms for each of the two kids.
It also features a guest bedroom for extra sleeping space.
Next door to the bathrooms is "the pool house," where the family gets together to play games or just hangout. The back of the pool house opens up to the family's above-ground swimming pool and deck.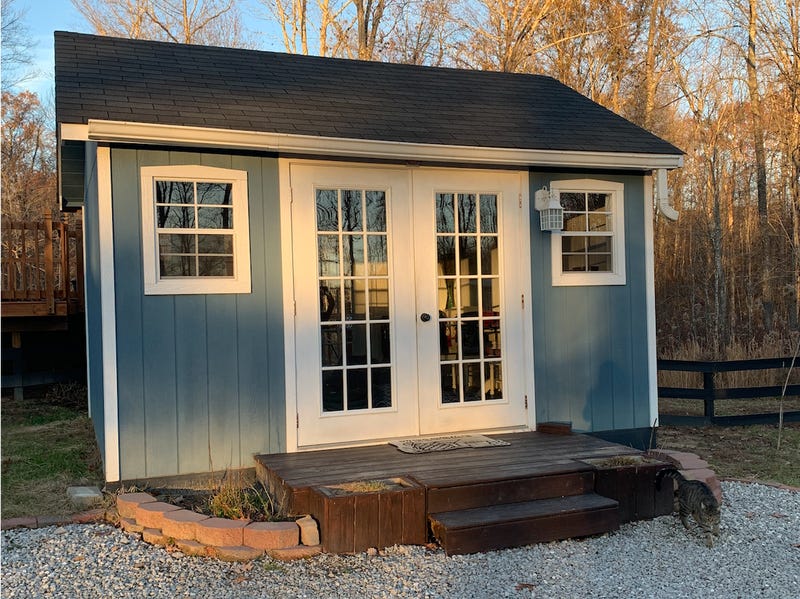 Next door is Brodey's tiny home, which features a porch, downstairs living area, and loft bedroom.
Next to Brodey's tiny home is Lennox's tiny home.
Lennox doesn't currently live in her tiny home full-time as she is a college student, but she does spend time there on weekends!
In addition to the five tiny home structures, there is also a super tiny sixth structure used as an office space, as well as a chicken coop, a barn, and a goat. The family made the leap from traditional living to their tiny home community in order to live more sustainably, and it sounds like they're doing an excellent job. The family pays $200 every month in utilities, and hardly produces any waste due to their "refuse, reduce, reuse, recycle" mantra.
I don't know if I could ever give up my house, but the Brinks family certainly makes a case for tiny home and country living! Big thanks to Insider for first covering the Brinks family and their unique lifestyle.