10 Surprising Yet Effective Cleaning Uses For Hydrogen Peroxide
I always have a bottle of hydrogen peroxide in the house, but it's always been for cleaning cuts and scrapes. Although hydrogen peroxide is a common disinfectant, you may not be aware that it's also an excellent household cleaning agent. Here are 10 surprising yet effective cleaning uses for hydrogen peroxide to try out around the house!
1. Countertop Disinfectant
Hydrogen peroxide is an excellent disinfectant for stone countertops. Especially during cold and flu season, get in the habit of spraying and wiping down your counters with hydrogen peroxide on a regular basis.
2. Remove Clothing Stains
To remove stubborn clothing stains, spray or dab hydrogen peroxide directly onto the stain in question. Let it sit for about 20 minutes, then launder as you normally would.
3. Glass Cleaner
Hydrogen peroxide is an awesome streak-free glass cleaner. Use it to clean windows, mirrors, stove glass, and more.
4. Wash Produce
You already know that it's important to wash produce before consuming it. Hydrogen peroxide is a great method for this – soak your produce in a solution of hydrogen peroxide and water, then rinse thoroughly with water.
5. Clean Cutting Boards
Cutting boards can carry a ton of bacteria – particularly wooden cutting boards, when bacteria seeps into the wood grain. Disinfect cutting boards with hydrogen peroxide to prevent the spread of harmful germs.
6. Grout Cleaner
To clean grout without damaging it, spray hydrogen peroxide directly onto the grout, then let it sit for about half an hour. After the time's up, scrub it with a stiff brush, then wipe with a damp cloth.
7. Toilet Bowl Cleaner
Pour some hydrogen peroxide into your toilet bowl and let it sit for about 25 minutes. When the time's up, use your toilet brush to scrub the bowl clean.
8. Cookware Cleaner
To tackle grease and burnt-on food residue on cookware, use a solution of baking soda and hydrogen peroxide. Apply the paste to the cookware, let it sit for half an hour, scrub the area in question, then wash as normal with warm water and soap.
9. Fridge Cleaner
To clean and disinfect your fridge and freezer, use hydrogen peroxide to wipe down the shelves, walls, and other interior places.
10. Protect Houseplants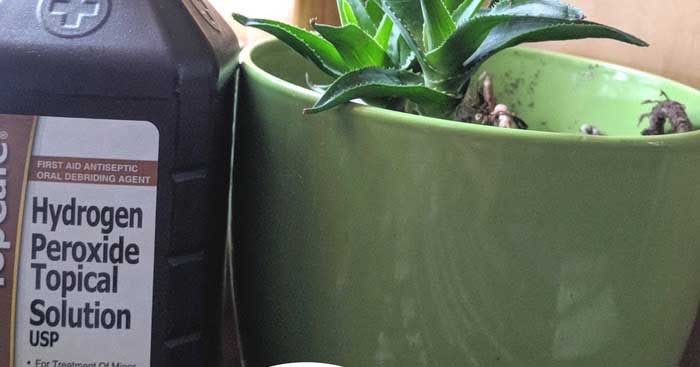 To prevent fungus from forming on houseplants, add a few drops of hydrogen peroxide into the spray bottle you mist your houseplants with.
Now that you know these awesome hydrogen peroxide household hacks, you can rest assured that your home will be disinfected and sparkling clean!