16 Delicious 'Dump Dinners' To Make In The Slow Cooker
If you've never heard of a "dump dinner" before, you're in for a treat. A dump dinner is essentially a meal that can be made in the slow cooker with very minimal time and effort required. As the name suggests, simply dump in the ingredients, walk away, and come back to a delicious, warm, and ready-to-eat dinner! Here are 16 drool-worthy dump dinners to make in the slow cooker this season that the whole family is bound to love!
1. Chicken Tortilla Dump Dinner
This comforting casserole recipe includes all of your favorite Tex-Mex flavors, and is a recipe that even the pickiest of eaters will enjoy.
2. Hawaiian Pork Dump Dinner
Just when you thought the concept of dump dinners couldn't get any more convenient, this sweet and savory recipe only requires four ingredients.
3. Slow Cooker Creole Chicken & Sausage
Smoked sausage, beans, bell peppers, spices, and a tomato sauce (with a bit of a kick) make up this delicious dump dinner recipe.
4. Slow Cooker Tomato, Kale, & Quinoa Soup
The best part about this warm and comforting recipe? It's packed with protein and super healthy ingredients.
5. Slow Cooker Chicken Teriyaki
Serve this tender, flavorful chicken teriyaki over coconut rice and grilled veggies, and you've got yourself the perfect meal.
6. Easy Crock Pot Lasagna
This hearty, comforting recipe proves that delicious lasagna doesn't have to be a chore to make – it can be done right in your crock pot!
7. Crock Pot Butter Chicken
Serve this awesome butter chicken with jasmine rice and naan – simply delicious!
8. Crock Pot Spaghetti Casserole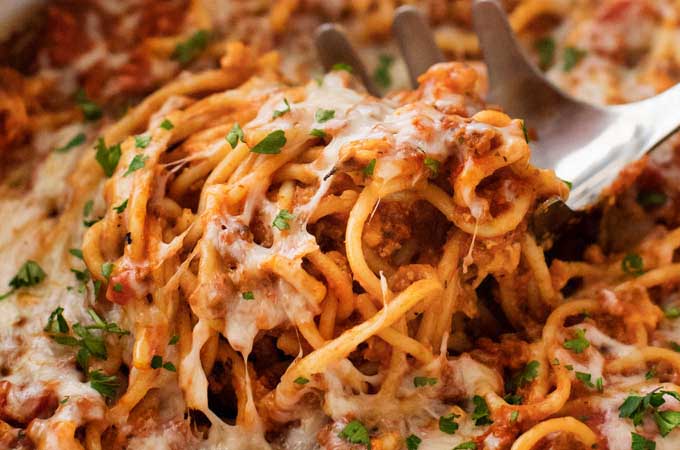 What's the epitome of comfort food, you ask? Well, it's this recipe for crock pot spaghetti casserole!
9. Crock Pot Lemon Garlic Butter Chicken
This recipe calls for tender, juicy chicken thighs in a buttery lemon garlic sauce – so yummy!
10. White Chicken Crock Pot Chili
Yes, traditional chili is delicious. But this unique white chicken crock pot chili is a total game-changer!
11. Crock Pot Mac N' Cheese
Mac n' cheese is always a good idea. And this recipe completely proves my point!
12. Crock Pot Asian Orange Chicken
There's no need for expensive, unhealthy takeout when you can make this mouthwatering recipe instead.
13. Crock Pot Potato Soup With Chicken
What could be better than creamy, flavorful soup on a cold winter day? Certainly not much!
14. Slow Cooker Parmesan Herb Chicken & Orzo
Savory, herby chicken and creamy orzo makes for the perfect (and easy) weeknight dinner.
15. Crock Pot Chicken Tacos
Looking for a healthy, protein-filled, and low-carb dinner idea? Look no further than this recipe for crock pot chicken tacos!
16. Seafood Corn Chowder
And last but not least, here's a great seafood corn chowder recipe for all of you seafood lovers out there!