15+ Ways To Transform A Backyard Or Outdoor Space
When the weather is nice, my husband and I are constantly spending time in our backyard. Although I like our yard, there are definitely times when I wish it was a little more grand. If you feel like your backyard is also in need of an upgrade, check out these amazing DIY ideas!
1. String Lights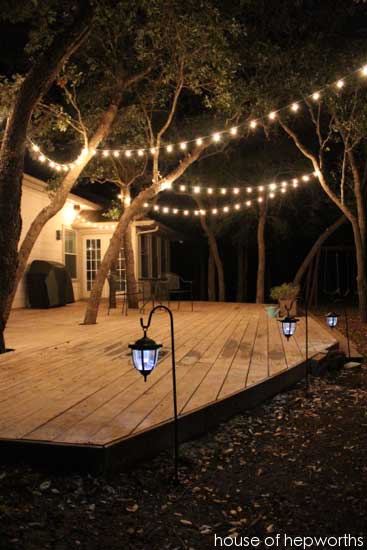 The easiest, most inexpensive way to make any outdoor space more magical? With string lights!
2. Bar Cart
Having an outdoor bar cart makes entertaining way more convenient and stylish. You can make your own if you're handy, or simply buy one.
3. Painted Picnic Table
Bring an artistic flair to your backyard by having a local artist paint something on a picnic table. You can always paint the table yourself, too!
4. Paper Lanterns
Paper lanterns are so inexpensive, but they really can make an outdoor space look magical.
5. Lounge Area
Every backyard should have a comfortable, cozy lounge area for hanging out in.
6. Outdoor Shower
An outdoor shower is great for cleaning up after gardening or simply cooling off on a hot summer day.
7. Hammock
A colorful hammock is the perfect place to curl up for a nap or with a good book.
8. Fire Pit
Fire pits are relatively easy to construct, and they offer unlimited opportunities for relaxing and roasting marshmallows!
9. DIY Movie Screen
An old, white bed sheet and a projector are all you need to have your very own outdoor movie screen.
10. Bar
Because who wouldn't want their own outdoor bar for summer entertaining?!
11. DIY Greenhouse
If you have somewhat of a green thumb, why not create your very own DIY greenhouse?
12. DIY Log Planter
Making a log planter isn't difficult, and they look so much more beautiful than a boring old planter.
13. Hanging Herb Garden
You can have fresh herbs for cooking whenever you want with these hanging herb jars.
14. Pampas Grass
Planting pampas grass is an instant way to make your backyard look grand and lush.
15. Vertical Planter
A vertical planter makes the perfect backdrop for a charming little bistro set.
16. Playhouse
A kids' playhouse doesn't have to be tacky and cheap-looking. Use your imagination, and the options are endless (and stylish!).