11 People Who Got Super Creative With Their Picnic Tables
Picnic tables are extremely handy. Need to sit a group of people at one convenient place? The picnic table is your solution. The only downside to picnic tables is that they tend to be a little plain-looking and boring. However, they don't need to be! Here are 11 people who decided to transform their picnic tables in a super creative way.
1. Splash Of Color
The owners of this bright and cheery picnic table clearly aren't afraid of a little color!
2. Citrus-Inspired
How fun is this picnic table painted with a lemon motif? I love how the base color is a neutral gray, and the bench is painted with the yellow accent color.
3. Flower Power
If you (or someone you know) is a talented artist, a tabletop mural of a flower is always a great picnic table idea. So beautiful!
4. Sunburst
Use some pre-made stencils to create this awesome sunburst pattern in complementary colors. Some wall decoration items can make it more beautiful.
5. Simple Chevrons
If you prefer a more subtle look, a simple chevron pattern and base in neutral colors is a great option.
6. Games Table
I absolutely love this idea! Paint the surface of a picnic table with a chess or checkers board template. There will be endless fun for your friends and family!
7. Modern And Simple
A coat of black or charcoal paint can totally transform a boring old picnic table into a chic and modern one.
8. Watermelon
Is there anything cuter than this watermelon-painted picnic table? I don't think so.
9. Kids' Paint Project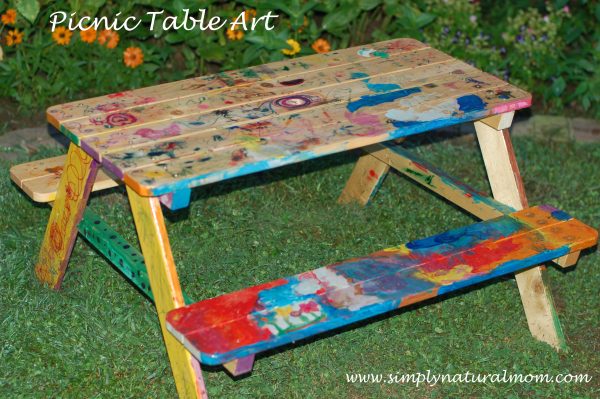 A kid-sized picnic table and some paints makes for the perfect kids' art project!
10. Colorful Rainbow
Some painters tape or stencils may be needed to create something like this – but how bright and beautiful is the design?
11. Painted French Linen Runner
I love the elegance and simplicity of this French linen table runner-inspired paint job. So simple to do, yet so beautiful!