12+ Car Cleaning Hacks From Professional Detailers
I love the feeling of getting into a super clean car. It makes it seem like my vehicle is brand new again! However, the last time I got my car detailed, the cost ended up being an unpleasant surprise. If you want your vehicle to be shiny and clean without dropping a few hundred dollars, check out these professional car detailer hacks that you can do yourself instead! Big thanks to the Family Handyman for sharing.
1. Rinse First
Professional detailers know that if you don't rinse your car thoroughly to begin with, the hot, soapy water will only grind dirt and surface debris into your paint finish. And that's certainly not something you want!
2. Avoid Using Dish Soap
Many people use liquid dish soap to clean their vehicles with. However, dish soap can actually strip your car's finish of important oils and damage the paint. Always use a car wash soap instead.
3. Microfiber Mitt
Microfiber mitts are far more effective car cleaning tools than sponges. Sponges absorb and trap dirt, even after you rinse them. When you rinse a microfiber mitt, the dirt will come off.
4. Use Two Buckets
When washing your vehicles, fill one bucket with hot, soapy water and another with clean rinsing water. To keep the soapy water clean, plop your mitt in the rinse water bucket and wring it out before using more soapy water.
5. Microfiber Towel
Speaking of microfiber, you'll want to dry your vehicle with a microfiber towel instead of a chamois. A microfiber towel will collect any leftover particles on the surface of your vehicle.
6. Remove Scratches
If you have some minor scratches on your vehicle, you'll want to take care of these before polishing. You can buy a scratch removal kit at any auto store, and they're quite easy to use.
7. Dual-Action Polisher
If you're someone who has a history of getting regular car details, you may want to invest in a dual-action polisher. This tool doesn't pose the risk of burning your paint off like a buffer tool can, and it will make all the difference when it comes to the shine of your vehicle.
8. Synthetic Wax
Synthetic wax is the best wax on the market, and it can easily be applied in small sections using a wax applicator sponge. Remove leftover wax residue with a clean microfiber towel, and you're good to go!
9. Top To Bottom
Although your first instinct when cleaning your vehicle's interior may be to start by vacuuming the carpets, you should actually start at the top. If you start by vacuuming the carpets, dust and dirt from the other parts of your car will end up where you've just vacuumed.
10. Detailer's Brush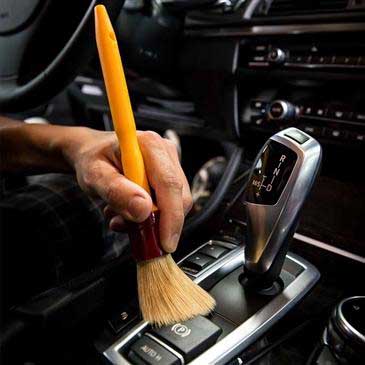 Use a small detailer's brush (a paintbrush also works!) to get dust out of those hard-to-reach places. Once you've piled up the dust and dirt, use a shop vac or handheld vacuum to suck it all up.
11. Stiff Brush
Much of the time, simply vacuuming your vehicle's carpets won't remove all that much dirt. The most effective way to clean your carpets is by using a stiff brush on them and vacuuming up the loose residue as you go.
12. Spray Door Seals
It's important to treat your vehicle's door seals with a silicone spray. Just spray some onto a rag and wipe the solution around the door seals. This will prevent the seals from sticking in extremely hot or cold temperatures.
13. Clean The Windows
Always save cleaning the inside of your vehicle's windows for last! You'll definitely want to do this step after you've vacuumed and cleaned your dash.
Now that you know these tips, you can spend an hour or two detailing your own vehicle and enjoy saving a couple hundred bucks!