15 Foil Packet Meals To Cook On The Barbecue All Summer Long
Between the demands of work, my kids, pets, and other aspects of life, by the time I reach the end of the day, dinner just seems like one more chore. Thankfully, it doesn't have to be! Here are 15 delicious recipes that can be cooked in foil packets on the barbecue – perfect for those busy weeknights when you want to eat a good dinner, but don't want to spend a ton of time or effort making it!
1. Grilled Shrimp Foil Packets
If you love a good old fashioned shrimp boil but don't have time for the entire production, this recipe is the perfect alternative.
2. Grilled Sausage & Potato Foil Packets
Baby potatoes, pieces of sausage, grilled peppers, and spices come together in this foil packet recipe that's great for a weeknight dinner or camping meal.
3. BBQ Chicken Foil Packets
This recipe is full of color, flavor, and also happens to be healthy! It's a win-win.
4. Chicken Parmesan Foil Packs
This recipe involves thin slices of zucchini and potatoes topped with chicken parmesan – what could be better?
5. Tomato Basil Grilled Fish Foil Packets
This recipe is unbelievably simple yet mouthwateringly good. Plus, your house won't have that lingering fishy smell!
6. Hobo Dinner Hamburger Foil Packets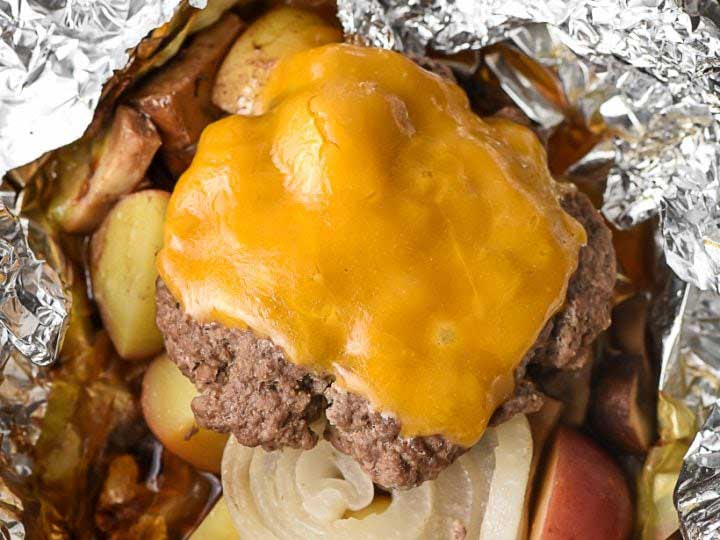 No mess and no cleanup! This hamburger recipe is truly the best, and is also great for camping.
7. Grilled Salmon & Asparagus Foil Packets
This is another extremely simple and extremely healthy foil packet meal that prevents that fishy smell from lingering in your kitchen!
8. Easy Chicken Enchilada Foil Packet Meal
Who doesn't love chicken enchiladas?! Especially when they can be easily made on the barbecue with no cleanup required!
9. Foil Pack Philly Cheesesteak Dinner
What a clever way to whip up philly cheesesteak! You can eat the contents on their own or on a bun as a traditional philly cheesesteak sandwich.
10. Butter Garlic Herb Steak Foil Packets
The name of this recipe alone has me sold. Delicious!
11. Brown Butter Garlic Cauliflower Foil Packets
Perfect as a side dish or vegetarian meal, this cauliflower recipe is packed full of delicious flavor.
12. Foil Packet Nachos
Yes, you can absolutely make nachos on the barbecue! I cannot wait to try out this recipe for myself.
13. Cheesy Potatoes & Ham Foil Packs
This is a good old fashioned cowboy recipe! I'm drooling just looking at the photo.
14. Healthy Grilled Shrimp Fajita Foil Pack
Toss some shrimp, peppers, and onions into a foil pack, grill on the barbecue, and you'll wind up with a healthy and delicious filling for tacos!
15. Grilled Peach Crisp Foil Packs
Of course, I couldn't leave out a foil pack dessert recipe – and this one for peach crisp is sure to be a hit!
You now have 15 delicious and easy-to-prepare foil pack recipes to toss on the grill all summer long, freeing up your time to spend on more important things. Enjoy!
ADVERTISEMENT